Outbound Call Center Capabilities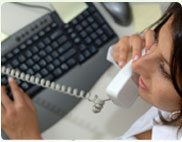 Motivational Marketing provides outbound call center services on an outsourced basis using the web in a technologically advanced call center environment to assist our clients in attaining greater levels of loyalty, value and return with their customers and prospects. Because of our long history and expertise in designing custom outbound call center campaigns, we are confident in our ability to develop programs that offer revenue producing opportunities.
Outbound Call Center Programs include
Lead Generation/Lead Nurturing
Telesales

New customer acquisition
Up-Sell/Cross-Sell
Subscription renewals

Seminar/Event Attendance Recruitment (Web and live events)
Order talking
Up-selling initiatives
Subscription renewals
New product(s)/service(s) launch
Reseller/Dealer recruitment
Database/List update
Customer/Prospect profiling
Pre/Post Trade Show
Motivational Marketing's New Jersey call center consist of 100 workstations. Motivational Marketing's Inbound IT/Telephony capabilities are as follows:
Digital recording (upon request)
Remote and on-site call monitoring capabilities
Live/Hot call transfer from any station to any phone number
Instant fulfillment of collateral materials initiated from any workstation via fax or email
Predictive Dialer
Motivational Marketing will provide you with all the key components to develop a successful outbound campaign including:
List research & acquisition
Script development
Electronic fulfillment
Lead distribution
Database management
Articulate trained and professional telesales agents and account management staff
Motivational Marketing monitors each program on an hourly basis to identify marketplace trends and continually refine our approach, thereby insuring quality and consistent results.
If you would like a complimentary program consultation & quotation, please click the following link and submit your request.

Click Here