Banking Programs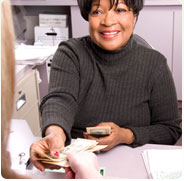 ASSET-BASED LENDING
Motivational Marketing contacts owners and finance executives of small to medium businesses to generate leads for asset-based lenders. We can play an integral role as part of a bank's mission to develop lending relationships with a by-product of increasing retail deposits from the SMB (small to medium sized business) sector.
NEW ACCOUNT CROSS-SELLING
Selected banks have chosen to outsource their new customer welcome calls rather than depend on branch personnel. The objective of the welcome call is to communicate the bank's mission of loyalty and commitment to customer satisfaction. In addition, the calls offer an opportunity to:
Provide branch and/or customer service contact information
Respond to basic banking questions on topics, such as: safety deposit - boxes, online/phone banking, minimum balances, branch hours, etc.
Confirm receipt of new account materials (checks, ATM card, etc.)
Mention of featured bank services, products or investments
MORTGAGE REFINANCE LEADS
Motivational Marketing works with Mortgage Brokers and Direct Lenders to provide qualified leads of homeowners looking to refinance their 1st and 2nd mortgages along with unsecured debt. In representing each individual broker/lender, Motivational Marketing presents the best offered rate plans and obtains Form 1003 information, including D.O.B. and SS#. The next step with the qualified leads would be to either "hot transfer" the call to a Loan Officer or email the leads the next morning. The Loan Officer would then continue the application process towards the anticipated closing.
If you would like a complimentary program consultation & quotation, please click the following link and submit your request.

Click Here