Appointment Setting Programs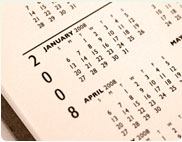 NEVER MISS A SALES OPPORTUNITY AGAIN . . .

Motivational Marketing sets face-to-face sales meetings with key decision makers in your target marketplace who have defined needs, pain and purchase timeframe.
Our mission is to allow your sales team to focus on closing sales by identifying, profiling, nurturing and establishing face to face meetings. This enables your sales team to focus their time on meeting and speaking with warm, qualified prospects that are in the buying cycle.
GOALS for Lead Generation Programs include:
Fill the pipeline with immediate, mid and long term prospects
Generate a consistent flow of qualified appointments
Leverage client's sales and marketing resources
Populate client's database with new prospect/market data
Create market awareness of the value clients' solutions
Develop metrics for ongoing appointment setting programs
Motivational Marketing Phone Agents have the business and technical knowledge to successfully present to prospective clients in order to set qualified face-to-face sales appointments. This is accomplished by engaging contacts effective probing, assessing a prospect's needs and interest, gaining key market intelligence, and articulating the clients' solution's key benefits. Phone Agents utilize the latest web-based sales tracking tools including:
Web-based appointment scheduling/calendar system
Auto-fulfillment of appointment confirmation letters via email
Option to work with your contact manager or ours
Motivational Marketing will provide you with all the key components to develop a successful appointment setting program including:
List research & acquisition
Script development
Electronic fulfillment
Strict quality control process
Email or FTP site appointment distribution
Database management
Articulate trained and professional phone agents and account management staff
If you would like a complimentary Program Consultation & Quotation, please click the following link and submit your request

Click Here